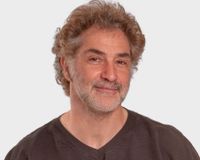 Gary Calderone was lecturing in three countries, immersed in holistic health sciences prior to his Pilates experience, setting the stage for this book to be written. His dedication and exploration of the Pilates Method, as it relates to the experience of a series of exercises, engagement in body/mind/spirit connection, and overall health and balance, comes out of that immersion and his history of injury and recovery and personal need. He continues to benefit from his own experiences with the Pilates Method from the positions of student and teacher.
Gary is a second-generation teacher, originating and graduating from the Pilates Center in Boulder, Colorado, in 1993. During that year, as co-founding Director of the Pilates Center of Fort Collins, Colorado, Gary brought the classical teaching to the attention of the medical community, illuminating the healing potential of Pilates, particularly around chronic/acute patient populations, culminating in collaboration with the Brain Injury Recovery Program (BIRP), to enhance patient recovery.

During 2000 and 2001 Gary went on to complete eighteen months of transformational training as a protégé of Wendy Leblanc-Arbuckle, creator of the CoreConnections® Pilates 3-Core Body Mapping Perspective at The Pilates Center of Austin (PCA). Inspired by his own training, his life altering experiences, and the inspirational benefits of training others, Gary integrated his own philosophy and understanding of the power and practicality of the Pilates Method for a healthy, holistic approach to life. In 2003 'Concepts in Contrology: Going Beyond Technique' was presented at the Pilates Method Alliance 3rd Annual International Conference, 'Pilates Pure and Simple,' in Denver, Colorado. In 2004 Gary was a featured speaker at the Polestar Pilates 3rd Annual International Conference, 'The World of Pilates Excellence' in Miami, Florida. At the Polestar event, in addition to his featured talk, Gary led a roundtable forum on 'The Relevance of Pilates in the 21st Century.' Gary has presented his work to Pilates enthusiasts as far away as Paris, France.

At a personal and professional level, Gary lives and teaches from his understanding that the practice of the Pilates Method is more than just an exercise regimen. "People are seeking balance in all categories of their lives. My hope is that my book is timely in providing readers access to a deeper level of personal care in their own path to health by recognizing how Pilates continues to adapt and serve the needs of a global community—now, in this 21st century more than ever."

His professional memberships include: Pilates Method Alliance, Nationally Certified Pilates Teacher, The Institute of Noetic Sciences (IONS), The International Society for the Study of Subtle Energies and Energy Medicine (ISSSEEM), and completion of and continued participation in The Landmark Education Curriculum for Living.

The Pilates Path to Health: Body, Mind, and Spirit is Gary Calderone's first book.
Gary is currently providing his services at the "Pilates Path to Health" a boutique studio located at 1006 Robertson St in Fort Collins Colorado creating Pilates - centric programs for optimizing athletic performance and living.